Welcome to Future City New York City!
The Future City Competition is a non-profit national competition sponsored by the engineering community to promote technological literacy and engineering to middle school students. The competition consists of three phases:
1) Design a city on the computer using the SIM City software.
2) Write an Essay and Abstract about the city.
3) Make a scale model of the city and present your city to a panel of engineer judges on the day of the competition.
Mentoring: Each team is matched with an Engineer Mentor who will visit the school periodically over the course of the competition and help the students learn about how engineers design and develop the infrastructure of a city.
Who can participate: The regional competition is open to all public, private, and parochial Middle Schools (6th, 7th & 8th grade) from the New York City Metropolitan Area.
When does the competition start: The competition runs from September to January each year. We recommend you register early in the season in order to have more time to complete the program.
Goal: To foster an interest in math, science, and engineering through hands-on, real world applications.
Result: Students will learn how math, science and engineering shape the infrastructure of the city around them. Students also learn life skills such as problem solving, teamwork, research, written and verbal communication, computer literacy, and gain an increased awareness of community related issues.
Prizes: The winning team from the Regional Competition will have an opportunity to compete in the National Competition in Washington DC, where the national winning team receives a trip to Space Camp.

Welcome Engineers, Architects, and all Professionals!
Competition Planning Committee
The competition planning committee meets once a month between September and January in order to compile mailings and also coordinates miscellaneous tasks between meetings via e-mail. Between February and August, there a few follow-up tasks for the committee to complete, but no meetings. If you would like to volunteer on the competition planning committee please e-mail Karen Armfield, the NYC Regional Competition Coordinator.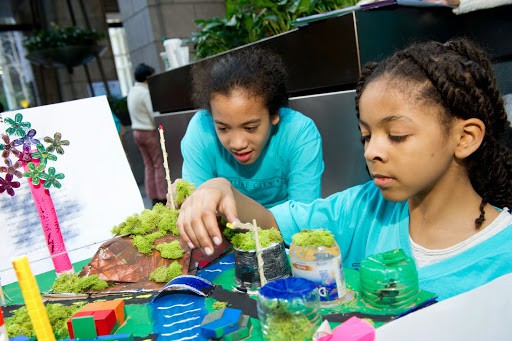 Mentoring
A mentor should be an engineer from the New York City metropolitan area who is interested in visiting a local middle school approximately 7-10 times between September and January (one visit every 3 weeks).
Each time you visit the school you will go over a different engineering topic with the students, for example: bridges, buildings, zoning, power supply, power production, water supply, pollution, traffic impacts, transportation, manufacturing, etc. These topics do not have to be spoken about in complete detail; a general overview of each topic will suffice as the students are in seventh and eighth grades. Mentors can be from any engineering discipline, but should have a general knowledge of most of the topics listed.
 If you are interested in volunteering as a mentor, have any questions about mentoring, or would like to obtain additional information, please feel free to e-mail Karen Armfield, the NYC Regional Competition Coordinator.

We welcome local engineering firms to become sponsors of the competition and help the next generation of engineers to learn the benefits of our profession. The New York City Regional Competition is supported by contributions from local engineering businesses and professional societies. If your organization would like to become a sponsor, please contact Karen Armfield at karen.armfield@aecom.com.
Sponsors of past competitions included:
AECOM
ARUP
Naik Engineering
SWE
HDR
HNTB
IEEE
ASABE
Langan Engineering
MESC
NYC Transit
WSP l Parsons Brinckerhoff
SONY
H & L Electric
NCEES



REGIONAL COORDINATOR & COMMITTEE CHAIR
Karen C. Armfield, P.E.
AECOM Transportation
125 Broad Street
New York, NY 10005
Phone: (212) 377-8652
karen.armfield@aecom.com
FUNDRAISING COORDINATOR
Eva Chan
Halcrow Inc.
22 Cortlandt St
New York, NY 10007
Phone: (646) 253-8540
Fax: (212) 566-5059
ChanT@halcrow.com
MENTOR RECRUITING
Jignasa Ray, P.E.
AECOM Transportation
125 Broad Street
New York, NY 10005
Phone: (212) 377-8652
jignasa.ray@gmail.com
PUBLICITY
Yuri Kwon
Sayles & Winnikoff Communications
1241 Broadway, Suite 904
New York, NY 10001
Phone: (212) 725-5200 x112
Fax: (212) 679-7368
yuri@sayleswinnikoff.com

PUBLIC RELATIONS
Jignasa Ray, P.E.
AECOM Transportation
125 Broad Street
New York, NY 10005
Phone: (212) 377-8652
jignasa.ray@gmail.com
TREASURER
Tim Ward, P.E.
Langan Engineering & Environmental Services
21 Penn Plaza
360 West 31st Street, 8th Floor
New York, NY 10001-2727
tward@langan.com
Alan Markov
markov.alan@gmail.com
Carlos Sanchez, P.E.
Paco Group
110 William Street, Suite 3010
New York, NY 10038
(212) 685-0578
csanchez@pacogroup.com
Helena Tam, P.E., LEED AP
HDR
500 Seventh Avenue
New York, NY 10018
(347) 204-7307
Helena.tam@hdrinc.com
Chi Chung (Billy) Tse, P.E.
Thornton Tomasetti
51 Madison Avenue
New York, NY 10010
(917) 661-7898
BTse@ThorntonTomasetti.com
JUDGE/VOLUNTEER COORDINATOR
Jason DelNero, P.E.
Port Authority NY and NJ
2 Gateway Center
Newark, NJ 07102
Phone: (973) 792-xxxx
pantgraphj@gmail.com
DAY OF COMPETITION COORDINATOR
Kim Tran
STV Incorporated
225 Park Avenue South
New York, NY 10003
Phone: (973) 776-3725
k.kimtran@gmail.com
SCHOOL COORDINATOR
Bettina Kaes LEED AP
AECOM
20 Exchange Place
New York, NY 10005
Phone: (212) 510-2545
bettina.kaes@aecom.com
WEBMASTER
Harris Sokoloff
H&L Electric
41-11 28th Street
Long Island City NY 11101
Phone (718) 361-6400
Harris.Sokoloff@HLElectric.com