More than 55,000 students competed this year from 37 regions in the United States and three from China. Join us in Washington, D.C. for the Future City 2023 Finals!
Congratulations to the Regional Teams advancing to Finals – See list of teams

Future City has something for Educators, Students, and Mentors—working as a team.
Press Releases:
Warwick Middle School Wins 2023 Prestigious Middle School STEM Competition–Future City
WASHINGTON, DC, February 22, 2023 – Odesa – engineered by students from Warwick Middle School, Pennsylvania– has won the Grand Prize at the 31st year of the prestigious international DiscoverE 2023 Future City® Competition. The students – Aaron, Aliyah, Auguste, Axel, Ben C., Ben W., Camryn, Capri, Carly, Carter, Charlie, Cody, Daniel, Henry, Ian, Izzy, Jack M., Jack T., Kayla S., Kayla G., Kensi, Leah B., Leah T., Liam, Lilly, Maya, Norah, Nula, Oliver, Reese, Reid, Reilly, Rivers, Ronan, Sam, Soren, Stephen, Travis, Tristan – teamed with educator Michael Smith as well as volunteer mentor Connor Henry, to earn this year's top honors.
Since last fall, middle school students Read more
Kids Worldwide Compete to Create a Futuristic City that Combats Climate Change at the 31st Annual Future City Finals
ALEXANDRIA, VA, January 2023 –How can we make the world a better place? It's said children are the future and it's the children that just may have the answer to that age-old question at the finals of the 31st annual Future City Competition, at the Hyatt Regency Washington on Capitol Hill in Washington, D.C., Engineer's Week, February 18 to 21, 2023 Read more
Fact Sheet:
The 31st annual Future City Competition for sixth, seventh, and eighth grade STEM students is September 2022 through February 2023. This year's Future City challenge is about combatting climate change.
Competition finals of nationwide regional winners are held during Engineer's week, February 18 to 21, 2023 at the Hyatt Regency Washington on Capitol Hill at 400 New Jersey Avenue, NW, Washington, D.C. Three teams from China are also competing.
Winners will be announced February 21, 2023.
What teachers, students, and volunteers are saying:
"Students research, write, build, think, and work as a team. We have lots of clubs at my school, but I think Future City is the most inclusive of all the things we try to teach our kids."
– John Boyd
Haynes Magnet School
North Carolina Educator
"I think Future City is an easy way to have students have fun and learn about engineering."
– 7th Grade Student
"As a judge, I was amazed with the intelligence and quick thinking that they showed during the questions and answers period. I am quite optimistic with the future of our world after seeing the tremendous young talents gathered from all over the world."
– Desmond Chan
Finals Judge
"The middle schoolers liked running ideas past me and being treated like a colleague. It gave them the sense that what they were doing wasn't confined to the classroom – it felt like the real-world."
– Jarom Wagoner, AICP
Mentor
Senior Planner for the City of Caldwell, Idaho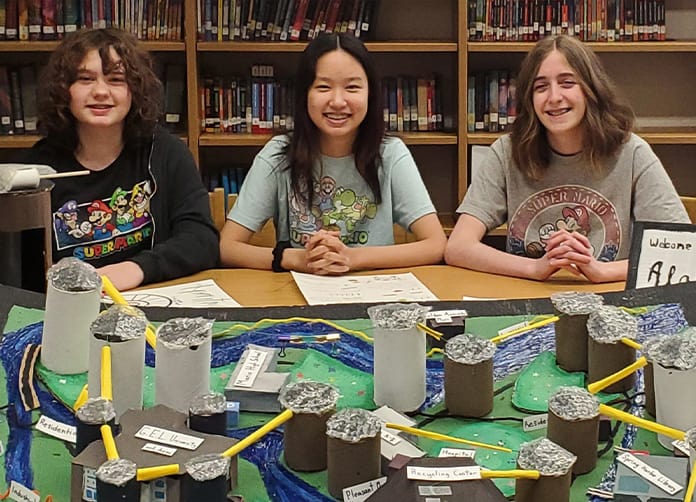 Future City is open to kids in grades 6, 7, and 8 who are from the same school, a home school environment or are members of a nationally, regionally, or state-recognized youth-focused organization, such as the Boy and Girl Scouts, Boys and Girls Clubs, or 4-H.
Looking for more?
Contact futurecity@discovere.org